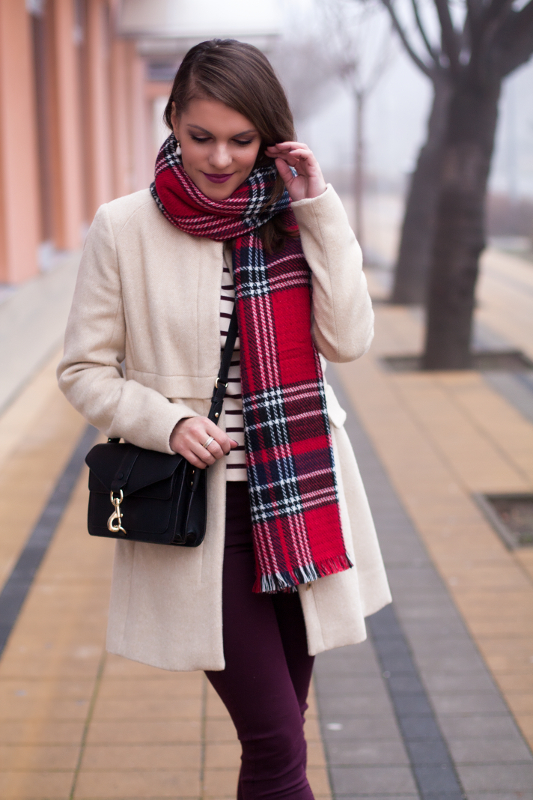 Ahoj a vitajte na blogu v Novom Roku. 🙂 Dúfam, že ste si užili Vianočné sviatky aj oslavu Nového Roku ako sa patrí. Želám Vám všetko dobré, nech sa Vám splní to, po čom túžite a hlavne, aby sme boli všetci zdraví a v pohode. Chcem Vám poďakovať, za Vašu podporu, ktorú si nesmierne vážim, za Vaše správy, priania aj darčeky, ktoré ma veľmi potešili. Ja sa budem snažiť blog vylepšovať, aby som Vám priniesla inšpiratívne články, aby ste sa na blog vracali s radosťou. Dnes mám pre Vás outfitovvý článok po dhšej prestávke, počasie nám veľmi neprialo počas sviatkov, ale včera sa nám aj napriek tomu podarilo niečo nafotiť.

Dnešný outfit je nenáročný, mestský štýl na bežné nosenie, v ktorom hlavnú úlohu zahrá červený tartanový šál, ktorý som ulovila ešte v Londýne. Tartanové šály sú stále trendy, každý rok prichádzajú v rôznych obmenách, zelený, béžový, červený. Červená verzia ma zaujala, je to moja obľúbená farba, to už asi viete. 😉 Počas zľiav sa mi podarilo uloviť len jeden kúsok a tým je pásikový pulover, ktorý mám zrovna na sebe. Ako keby som tých pásikových vecí už nemala dosť, že? 😀 Zaujal ma práve kôli vínovým pásikom, tých klasických čiernych mám už dosť. Pulover som zladila s vínovými rifľami a béžovým kabátom, ktorý ste u mňa mohli vidieť napr. tu. Topánky som zvolila vyššie kotníkové čižmy, ktoré mi prišli ako najvhodnejšia voľba, i keď nie sú veľmi pohodlné, na môj vkus sú až príliš vysoké. Doplnok samozrejme tatrtanový šál, ktorý je mimochodom obojstranný, dá sa nakombinovať s ozúbkovanou stranou. Ja som zostala pri jednej verzii, ďaľší vzor by bol podľa mňa príliš rušivý. Šál som si klasicky prehodila cez jednu stranu, i keď nosím ho na veľa spôsobov, toto je len jedna z možností. Určite sa tento šál objaví aj v iných outfitových inšpiráciách. A na záver moja obľúbená cross body kabelka, ktorú som prehodila cez plece, aby to malo ten správny mestský nádych a môžem vyraziť.
Pulover: Zara
Nohavice: Stradivarius (podobné tu)
Kabát: Stradivarius (podobný tu)
Topánky: Zara (podobné tu a tu)
Šál: Primark (podobný tu)
Kabelka: Rebecca Minkoff (podobná tu)
Prsteň: Bondiamo
Ďakujem pekne za prečítanie, dúfam, že sa Vám outfit páčil, keď tak mi dajte vedieť dolu do komentu. Napíšte mi, či radi nosíte šály a či tiež máte doma niečo podobné, s čím ho kombinujete. Kľudne mi pošlite aj fotku, budem sa tešiť. Podporiť ma môžete aj na Facebooku, alebo Instagrame. Majte sa krásne a užite si pohodový Pondelok. ♥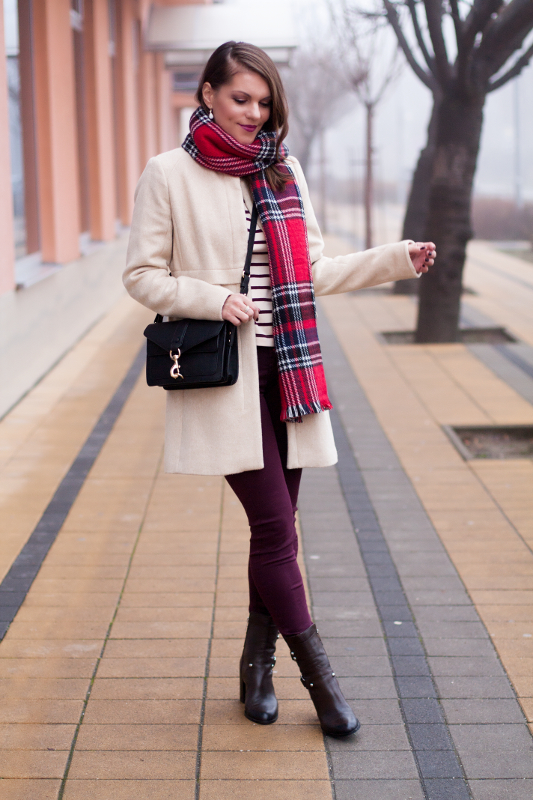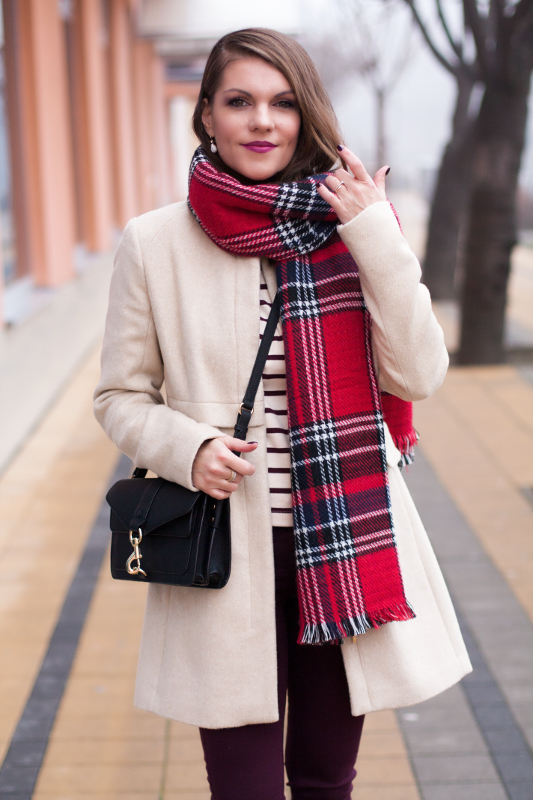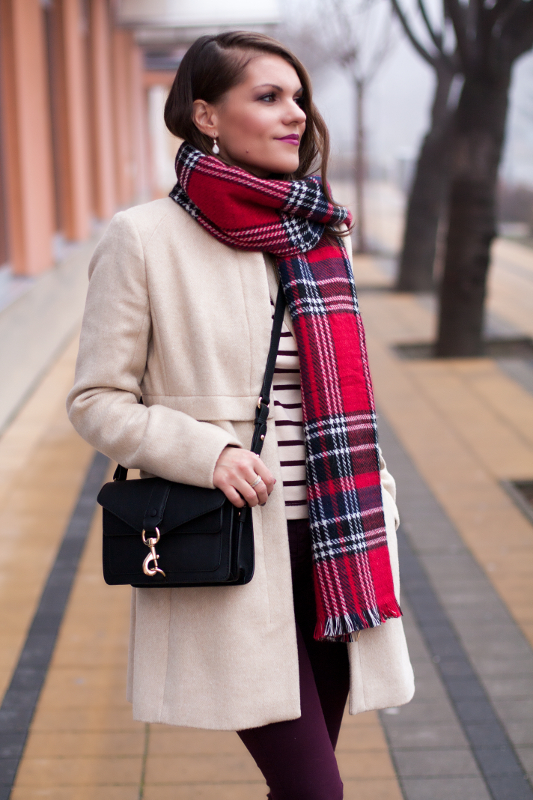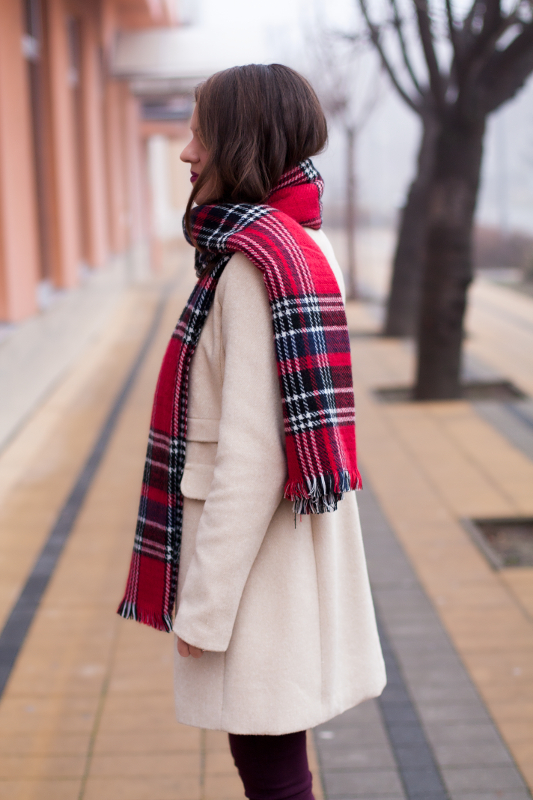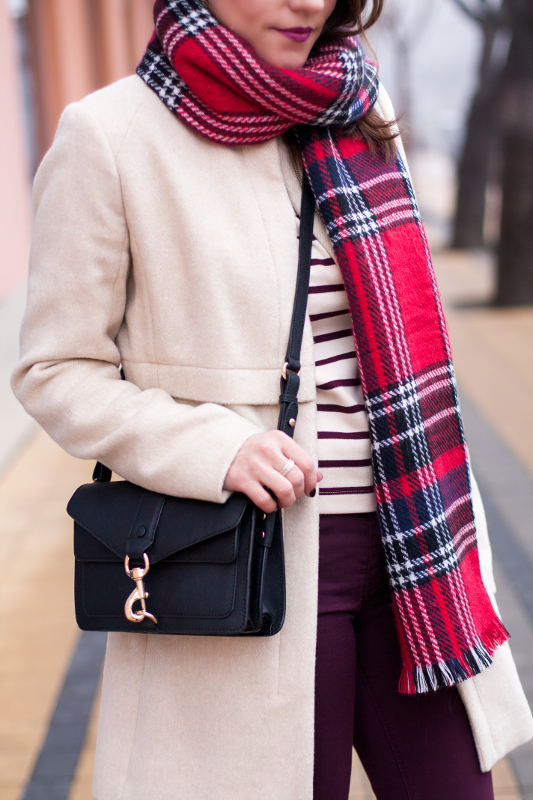 ♦ ♦ ♦ ♦ ♦ ♦ ♦ ♦ ♦ ♦ ♦ ♦ ♦ ♦
Hello and welcome to my blog in a New Year 2016. I hope you had a lovely Christmas and a celebrated New Year in style. I wish you all the best, may your dreams come true. I want to also thank you for your support, wishes, messages and even presents I enjoyed it a lot. I will try my best to make the blog even better this year, to bring you more inspirations and I hope you will return back with joy. After a long break there is a new outfit, weather was really crazy during holiday but finally we managed to shoot something yesterday.
It is a simple and casual look, where main role plays this gorgeous, red tartan scarf. I bought it on my last visit in London. Tartan scarves are still going strong, very trendy. Every year come in different designs and colors, green, beige, blue and red. I love the red one a lot, it is my favorite color and goes with everything I have already in my closet. On sales I managed to get only one piece and it is stripes jumper I'm wearing. Like I don't have already enough stripes in my wardrobe, right? Stripes are wine-red not like a classic black and I combined it with wine skinny jeans and beige coat, which you could see already here. I opted for a high ankle boots, which seems like a best option even though, they are bit uncomfortable, slightly high for my taste. And of course tartan scarf. It is double sided. You can wear it combined with a hound's-tooth pattern too. I stayed with a simple tartan only; any extra pattern would be distracting. I tossed it over the shoulder, it's one of many ways how you can wear it and I'm sure you will seeing more of it on the blog. Lastly my favorite cross body handbag which I wear it over to give that urban feel to it and I'm good to go.
Top: Zara
Bottom: Stradivarius
Coat: Stradivarius
Shoes: Zara
Scarf: Primark
Handbag: Rebecca Minkoff
Ring: Bondiamo
Thank you very much for reading, I hope you enjoy this article and if so please let me know in the comment section down below. Let me know if you like to wear scarfs, if you have anything similar yourself and how do you combine it. Feel free to send me photos of you I would love to see you. You can support me on my Facebook page or Instagram. Have a lovely Monday. ♥