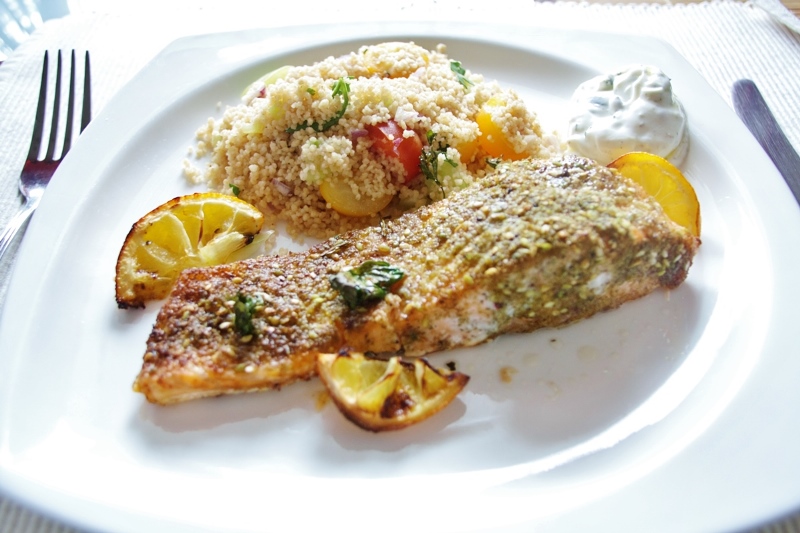 Zaatar salmon and rainbow couscous with parsley dressing was my last night dinner and today's lunch. It was so delicious that I had to had to prepare it again. This mixture of herbs called Zaatar or Jordanian thyme is my favorite mixture of herbs and it's tangy flavor is so addictive. I'm hooked for years. I add it to almost every dish I make. It's usually mixture of thyme, oregano, dried sumac, salt and sesame seeds but it can vary from country to country.
You can buy it in Arabic shops or markets but in regular stores too. Here in Slovakia I didn't find it yet but a good thing is you can make it at home too.
Za'atar
2tsp thyme
2tsp oregano
2tsp dried sumac
1/2 tsp pinch salt
2tsp sesame seeds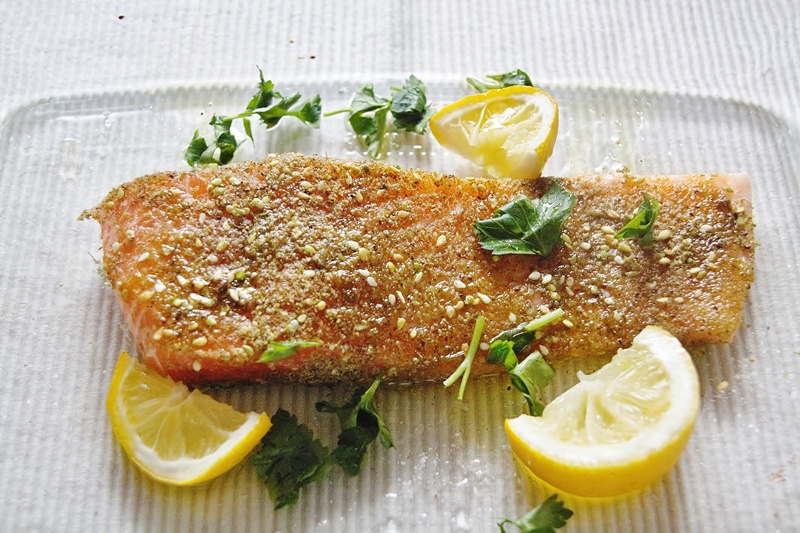 Place clean and dried salmon fillet in a glass dish, sprinkle with salt, add zaatar and rub it into the salmon, drizzle with olive oil and and lemon zest. Preheat oven to 425°F and place the dish with salmon in a oven and roast for about 15minutes.  The cooking time can vary from oven to oven and size of salmon.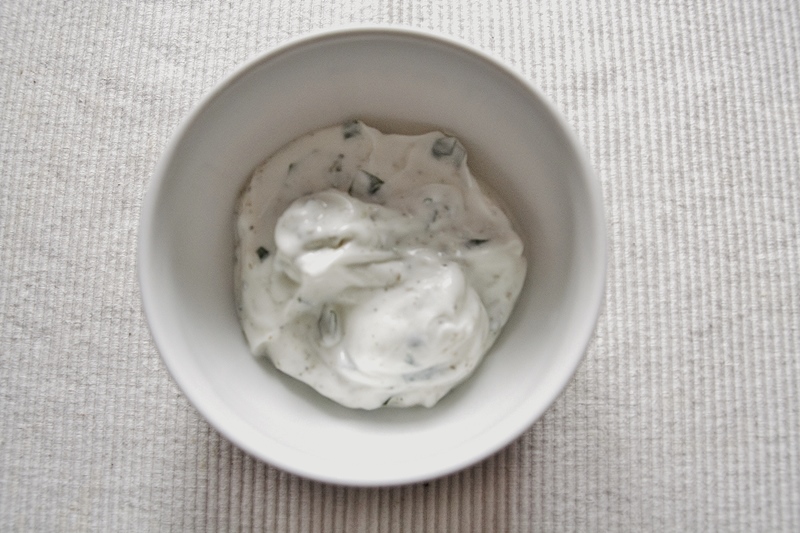 Small Greek yogurt or sour cream, drizzle with a olive oil and lemon zest, fine chopped parsley and  I again pinch of za'atar. 😀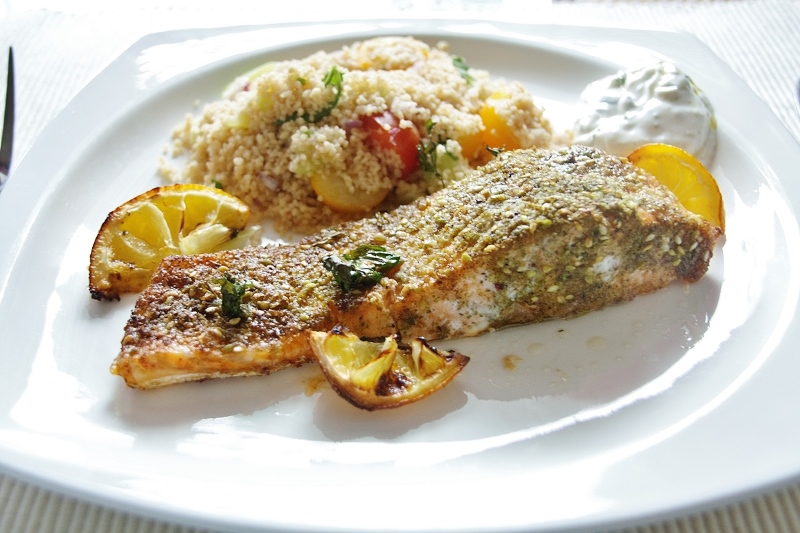 Couscous is the ultimate fast food. Ready to eat in 5 minutes and because I have been very busy lately and don't have  much time to spend hours cooking in the kitchen. I use wholegrain couscous, pinch of salt and fill in with a boiling water about cm above. And let it covered in a dish for about 5 minutes and then stir it with fork. Add all sorts of veggies, tomatoes, cucumber, pepper, red onion is must, salt, pepper, parsley and mint and drizzle with olive oil.
Enjoy! :))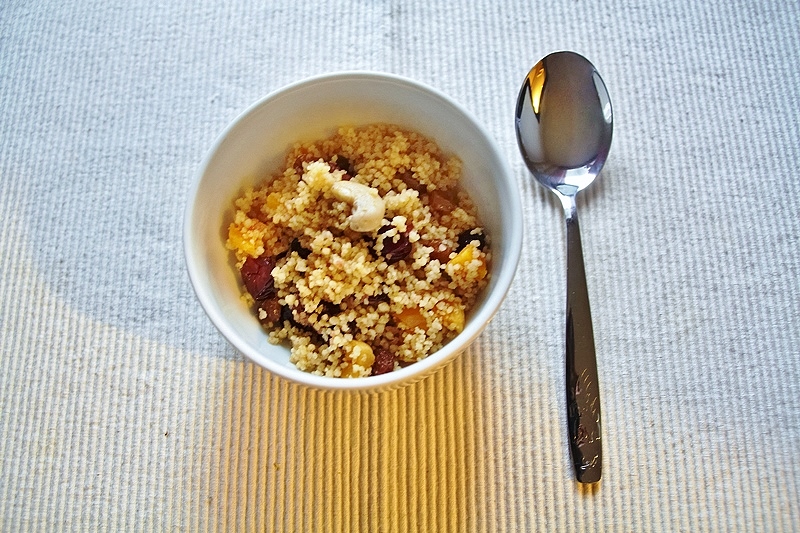 If there is a couscous leftover I make a sweet couscous for our little one. Ohhh it's crazy good. Instead of veggies I add all sorts of dried fruits like apricots, which are very good source of vitamins and minerals like calcium, iron, magnesium, phosphorus and potassium and are good for those with high blood pressure. Also raisins, cranberries, figs, plums and I love to add nuts too like cashews, almonds  and pecans. I add freshly made orange juice from a half of orange or even one and cinammon, don't be shy on juice tough kids love more moist textures. 😉
Thank you very much for reading. I hope you enjoyed this post, let me know if you have tried zaatar before and on what was the occasion. If you like middle eastern cusine and what do you like the most?
♦ ♦ ♦ ♦ ♦ ♦ ♦ ♦ ♦ ♦ ♦ ♦ ♦ ♦ ♦
Losos s bylinkami za'atar a dúhový kuskus šalát s petržlenovým dresingom bola moja včerajšia večera aj dnešný obed. Bolo to také dobré, že som neoodolala a urobila si to znovu. Táto zmes korenia zvaná Zaatar alebo Jordánsky tymián je jedna z mojich najobľúbenejších zmesí byliniek, ktoré používam. Jeho kyslá príchuť je návyková. Prídavam to skoro do všetkého. Zvyčajne je to tymián, oregáno, sumak, soľ a sezamové semienka, ale môže sa to líšiť od krajiny ku krajine. Pridáva sa aj majoránka, rozmarýn atď.
Môžete ho kúpiť v arabských obchodoch, trhoch ale aj v bežných obchodoch. Tu na Slovensku som ho nenašla zatiaľ nikde. Dobré na tom je, že si ho môžete urobiť aj doma zo sušených bylieniek, alebo kľudne aj čerstvých ak máte.
Z'aatar
2 lyžičky tymián
2 lyžičky oregano
2lyžicky sumac
½ lyžičky soľ
2 lyžičky sezamových semienok
Polžte umyté a osušené filteky lososa na pekáč, alebo do sklenej misy, osoľte, obaľte v bylinkách zaatar, pokapte olivovým olejom a džúsom z citróna. Rozohrejte si trúbu na 220°C a pečte okolo 15minút. Čas pečenia zaleží od trúby k trúbe a veľkosti lososa.
Na dressing potrebujeme, 1 grécky jogurt, alebo kyslú smotanu, olivový olej, šťava z citróna, petržlenová vňatka a znovu štipku zaataru.
Kuskus patrí jednoznačne medzi rýchlovky, hotový je za 5 minút. V poslednom čase som veľmi zaneprázdnená a nemám toľko času vyvárať v kuchyni. Použila som celozrnný kuskus, pridala som štipku soli a zaliala to vriacou vodou asi cm nad a nechajte prikrýté, potom zľahka rozhrabte vydličkou. Pridáte rôznu zeleninu podľa chuti, ja som dala rajčiny, uhorka, paprika, červená cibuľa tá musí byť! Petržlen, mätu a pokapala olejom.
Dobrú chuť! :))
Pokiaľ mi niejaký kuskus zostal, zvyčajne z neho urobím sladký kuskus. Namiesto zeleniny, dám sušené ovocie, ako marhule, ktoré sú zdrojom rôznych vitamínov a minerálov ako vápnik, železo, magnézium, folátov a potásia. Vhodné pre ľudí s vysokým tlakom. Ďalej hrozienka, figy, slivky a tiež pridávam orechy kešu, madle a pekanové orechy. Pridám čerstvý džús z polky pomaranča, niekedy aj viac, zaleží od množstva a štipku škorice. Toho džúsu sa nebojte, kľudne to môže byť mokrejšie, deti to tak majú radšej.
Ďakuje pekne za prečítanie, dúfam, že ste si tento recept užili a že ho vyskúšate. Dajte mi vedieť, či ste to už niekedy jedli, kde ste to vyskúšali a či Vám to chutilo. Prajem krásny večer.