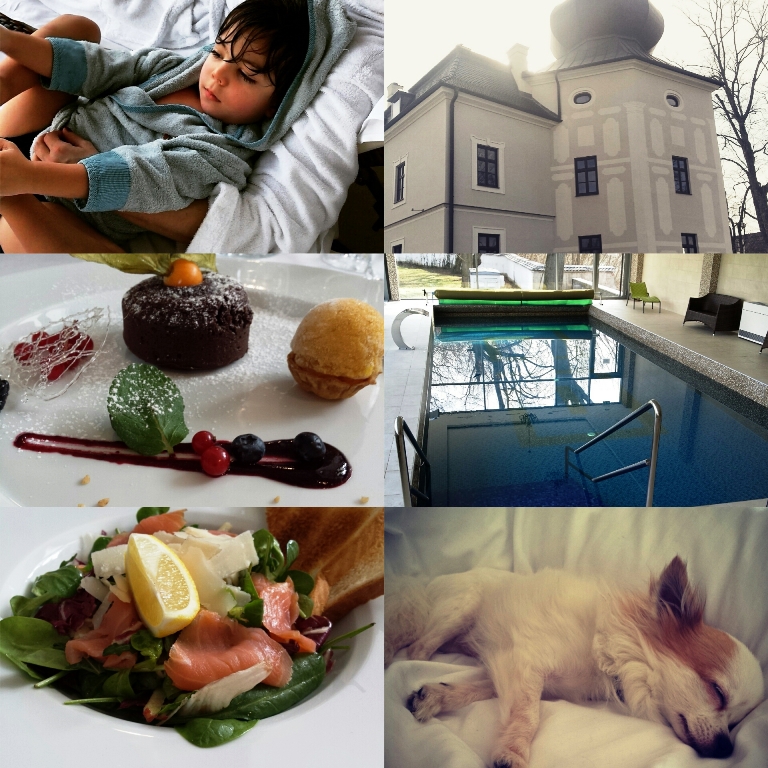 Ahojte a vitajte na blogu, dnes trošku oneskorený report z Chateau Appony Relax pobytu, v neďalekej dedinke Oponice. Niektorí ste už mohli vidieť pár fotiek na mojom instagrame. V poslednej dobe sme toho mali veľa a potrebovali sme niekam vypadnúť za odpočinkom a trošku sa odreagovať, určite to poznáte.
Chateau Appony nám prišla ako vhodná voľba, keďže sa nachádza neďaleko od mestečka Topoľčany a my sme sa ako vždy rozhodli na poslednú chvíľu.  Nemali sme veľmi veľa času plánovať dlhšiu cestu a vlastne načo cestovať zbytočne dlho, keď máte niečo hneď za rohom. Krásne prostredie, ozajstná oáza pokoja. Presne to, čo sme potrebovali. V pobyte bol zahrnutý uvítací nápoj, polpenzia raňajky formou bufetu a výber z dvoch hlavných jedál, predjedlo a desert boli dané, uprgrade z Komfort na Junior izbu, dieťa v cene (3roky), bowling, prehliadka knižnice a masáž. Obedy si môžete objednať v reštaurácii, varia tam naozaj vynikajúco a majú slušnú selekciu vín, ktoré sme samozrejme ochutnali. Môžete si doniesť aj domáceho miláčika za ktorého je poplatok 10,- Eur.  Sú tam aj tenisové kurty a môžete si požičať aj bicykle, ale to sme nevyužili, pretože sme chceli oddychovať. Oddýchnuť si môžete aj vo wellness, saune, vírivke, či zaplávať si v bazéne. V areáli je parčík, ktorý môžete využiť na prechádzku, alebo si zabehať, či kŕmiť rybky v jazierku. Cez leto tam je príjemne, vonku je terasa aj reštaurácia prístupná aj pre hostí, ktorí nie sú ubytovaní.
Kedže nemám veľa času na návštevu kaderníka, manikúry, či pedikúry,  veľmi by som uvítala tieto služby pod jednou strechou a tiež niečo pre deti, aspoň malý detský kútik, ktorý mi tam chýbal.
Celkové hodnotenie pozitívne, určite odporúčam, keď si chcete oddýchuť, alebo zažiť romantiku pri sviečkach a vychutnať si dobré jedlo pri poháriku vychladeného vínka. 🙂 My sme si to užili. Ďakujeme Chateau Appony.
♦ ♦ ♦ ♦ ♦ ♦ ♦ ♦ ♦ ♦ ♦ ♦
Hello and welcome to my blog, I wanted to share with you our experience from  Chateau Appony, the Relax weekend in nearby village Oponice. Some of you might have seen a couple of pictures on my instagram already and if not head in. We had a lot going on recently and were looking for a place to unwind and relax. We found the most perfect place for us as it is located just 10 minutes from our hometown. We decided at the last minute as usual and didn't have much time to plan a longer journey and we certainly weren't in a mood to spend hours in a car to get there. Sometimes you don't need to travel far to find a good place like this. It has a very nice surroundings, it's a calm place to relax and enjoy. Exactly what we needed. Our staying included welcome drink, upgrade from Comfort to Junior room, buffet breakfast and dinner of two main meal choices, bowling, tennis court, massage, library tour and a child (3years old) free of charge.  Lunch you can order in the restaurant from the menu, the food is excellent and they have a good selection of wines too, which we tasted of course. It is pet friendly so you can bring your four legged family member with you, it is extra and they charge if I remember correctly 10,- Euros. There is a nice park with pond where you can feed the fish with kids, walk around or have a nice run. During the summer time there is a terrace outside and also restaurant is available for non-staying in guests, where you can sit and enjoy a nice meal. You can borrow bikes if you feel like it or enjoy swimming in a pool or relax in jacuzzi.
I was missing a small play area for children in the restaurant and services like manicure, pedicure or even hairdresser as I don't have much time to visit during the week.
Overall it was lovely staying, we had a good time and I recommend to anyone who wants to relax, unwind and enjoy a good meal with a nice glass of wine. We certainly did. Thank you Chateau Appony until next time!