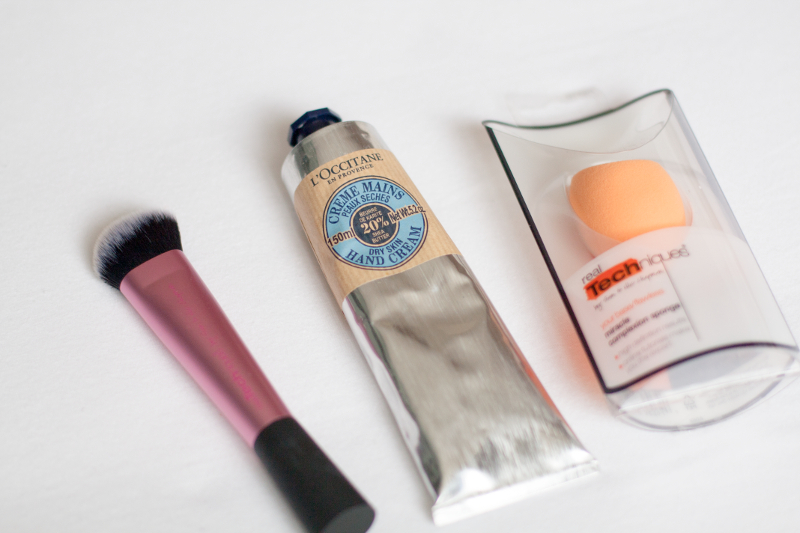 Ahoj a vitajte na blogu. Dnes som tu mám krátky článok o mojich kozmetických novinkách, ktoré určite stoja za zmienku. Niektoré ste na blogu pravdepodobne už zaregistrovali, ako napr. tento mierne skosený štetec v článku How to clean my make up brushes. Dostala som ho na Vianoce a som s ním veľmi spokojná. Môj predošlý som mala niekoľko rokov a už bol najvyšší čas na zmenu. Má pevné, syntetické štetiny a ľahko sa s ním pracuje, čím mi uľahčuje každodenné líčenie. Používam ho najmä na kontúrovanie tváre a lícnych kostí bronzérom. Štetce tejto značky nie sú testované na zvieratách. Momentálne je už nedostupný, ale ako náhradu by som použila kľudne aj tento štetec. A už mám vyhliadnutý ďaľší štetec na líčka. Cena je veľmi priaznivá a asi sa budem musieť poponáhľať, aby sa mi vôbec ušiel. 🙂 S akými štetcami ste spokojné vy? Máte obľúbenú značku?

Ďaľej tu mám krém na ruky, ku ktorému som sa dostala celkom náhodne. Kamarátka mi minulý rok poslala balíček, v ktorom boli aj vzorky tohto užasného krému. Ja som si ho hneď zamilovala hlavne kôli jeho nádhernej vôni po jazmíne a tiež preto, že je príjemný na dotyk, ľahko sa rozotiera a vstrebáva. Obsahuje 20% bambuckého masla, medu a extraktu sladkých mandlí. Tiež vitamín E, ktorý má antioxidačné účinky a pomáha vyživovať dehydrovanú pokožku na rukách. Je to veľké balenie, ktoré mi predpokladám vydrží niekoľko mesiacov. 🙂 Suchým rukám a všeobecne krémom na ruky, by som sa chcela venovať v niektorom z ďaľších článkov. Aký je Váš obľúbený krém na ruky?
Ďaľšia novinka, ktorú som síce ešte nemala možnosť vyskúšať, je táto multifunkčná pleťová hubička, ale už sa na to chystám. Máte niekto skúsenosti? Ste spokojné? Momentálne je tiež nedostupná, ale našla som stále dostupné, zvýhodnené balenie tu. Táto hubička slúži na rovnomerné zapracovanie make upu do pokožky, čím vytvorí dokonalý, výsledný vzhľad. Špicatá strana slúži na zakrytie začervenalých miest a drobných nezrovnalostí. Plochá strana slúži na kontúrovanie nosa a zapracovanie korektoru pod očami. Oblé strany sa používajú zapracovanie väčších plôch tváre jemným poklepávaním a ťukaním. Znie to celkom sľubne, čo myslíte? Ja som teda veľmi zvedavá, ale asi mi to chvíľu potrvá pokiaľ sa do toho dostanem. Aké máte skúsenosti vy? Pokladáte ju za zbytočnosť, alebo práve naopak?
Ďakujem pekne za prečítanie a Vašu podporu. Dúfam, že sa Vám článok páčil, keď tak mi dajte vedieť dolu do komentu, či niečo z toho používate, alebo Vás to láka vyskúšať. Prípadne, aké s nimi máte skúsenosti. Podporiť ma môžete lajkom na mojej Facebook stránke, alebo srdiečkom na instagrame. Majte sa krásne a užite si víkend. ♥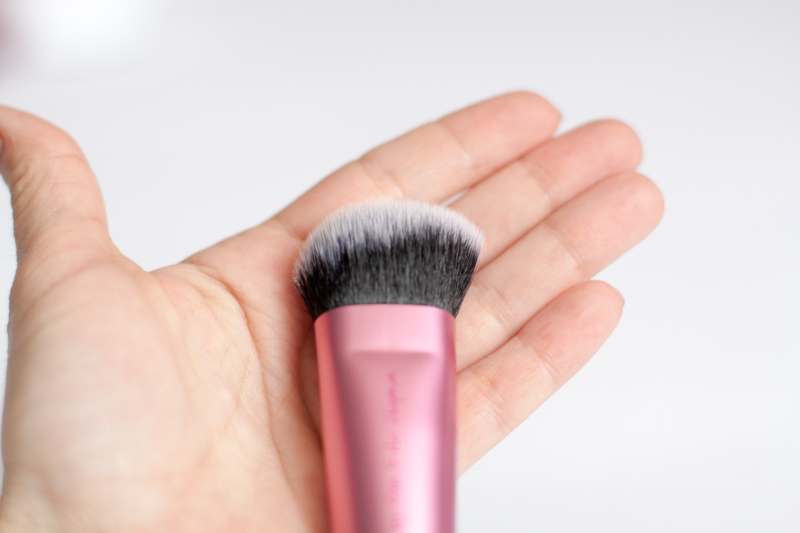 Real Techniques zahnutý štetec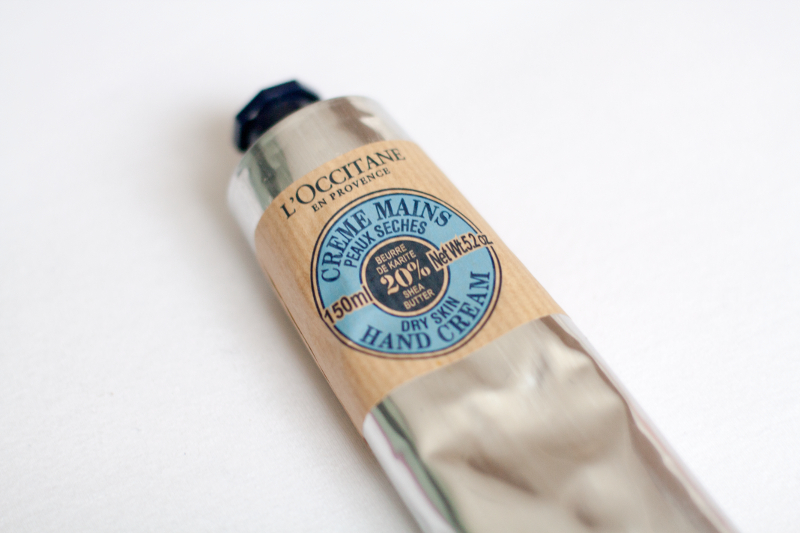 Krém na ruky L'occitane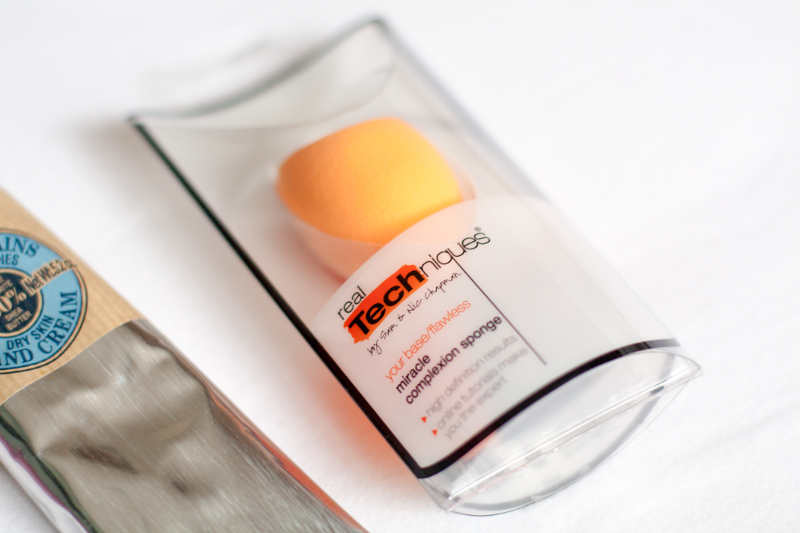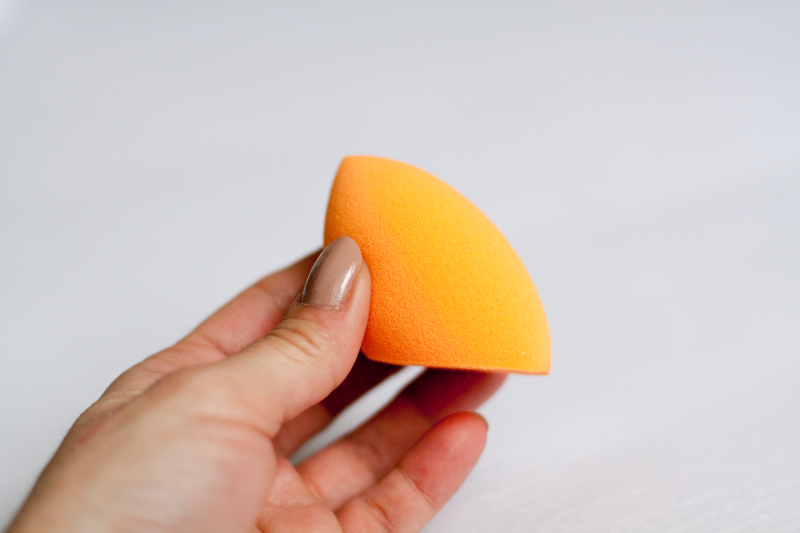 Real Techniques Miracle pleťová hubička