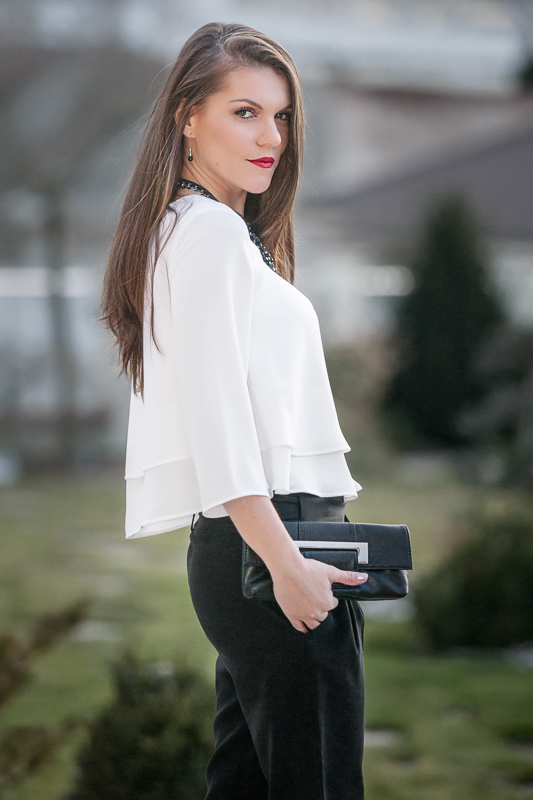 Hello everyone and welcome to my blog. I missed posting here a lot to be honest. I'm very happy to be back after sickness, finally I'm fit like fish now! Yay!
I hope you are doing good and having a wonderful Christmas holidays. We are having a very peaceful Christmas, spending it with family and friends. December is really about people getting together before the end of the Year, lots of parties and celebrations. I wanted to show you in advance my party outfit which I'll be probably wearing on the New Year's Eve or tonight Stefan's party (I haven't decided yet, what do you think?), which is on 26th of December. It's the first party after Christmas something like a little warm up before New Year's Eve celebration, the clubs come to life again and get totally packed. Slovak people just like to party and find any opportunity like this one to go out for a drink. It's good to burn down the calories anyway. I love this outfit a lot, because it's simple and elegant. Black and white is such a classic, classic which I never get tired of. Statement necklace is a must if you are wearing simple blouse. I adore these baggy tencel trousers with bow, it looks very feminine and it's comfortable too. Now on sales! Double layered blouse or ruffle blouse is gorgeous and chic, also very feminine. Red lipstick is my thing and it adds bit of color to the look. Perhaps I will manage one more post before New Year starts but if not and I don't see you have a good one, all the best and Thank you.
Outfit: Trousers:: Mango, Blouse:: Mango, Shoes:: Kati, Necklace:: Orsay, Earrings and watch:: Calvin Klein Lipstick:: Essence All you need is red
Occasions: drinks with friends, New Year's Eve celebration, party, date
Tips: When wearing black and white I like to add red color to outfit for some reason, red lipstick, nail polish or accessorize with red bag even shoes
Photos by: Romana Chudikova
Thank you very much for reading. I hope you liked this outfit post, if so gives it a thumbs up on facebook, instagram or share it. Let me in the comments section if it's something you would wear? Tell me more about you? Are you a party goer or a homebody? What are you up to? What is your ideal New Year's Eve? Have you got your outfit ready yet? Do you make New Year resolutions?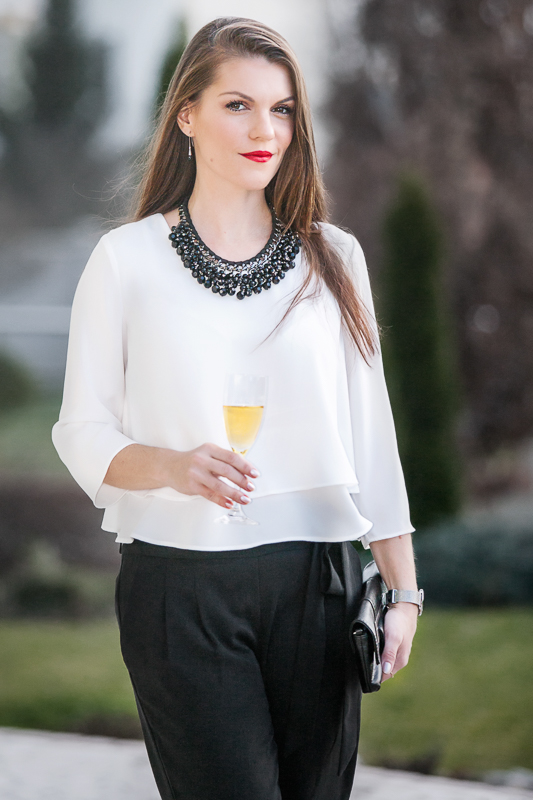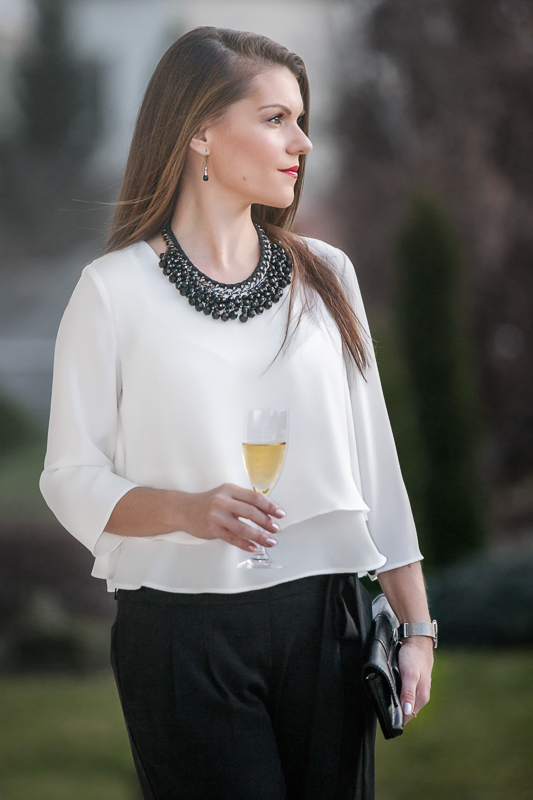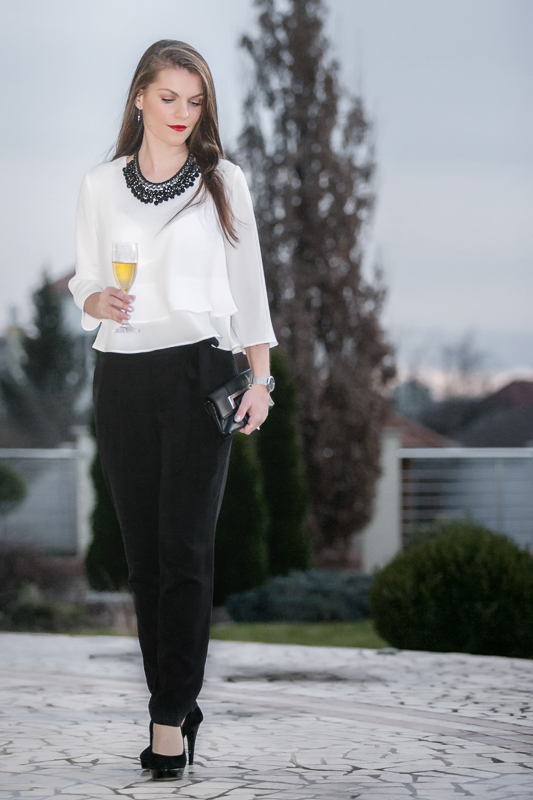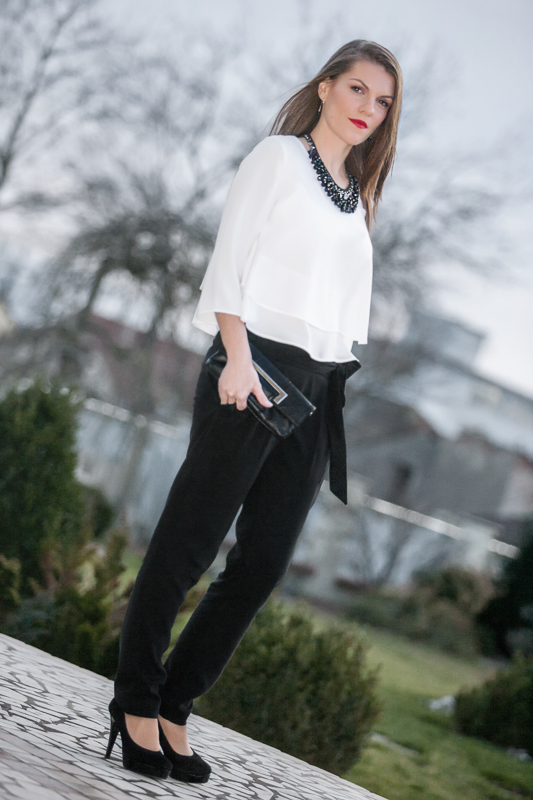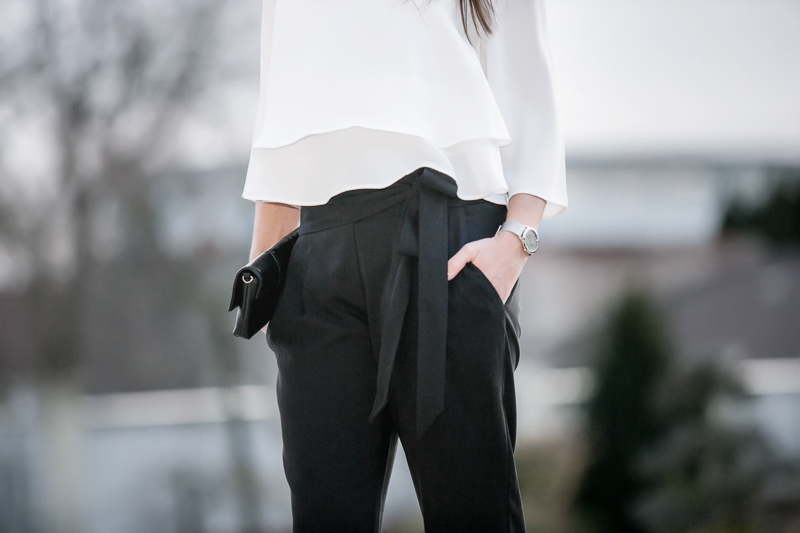 ♦ ♦ ♦ ♦ ♦ ♦ ♦ ♦ ♦ ♦ ♦ ♦ ♦ ♦
Ahojte a vitajte na mojom blogu. Musím sa priznať, že mi to tu už začínalo chýbať. Asi si pomaly vypestovávam novú zavislosť. Som rada, ze som späť po chorobe, konečne zdravá ako rybka 2x za tento mesiac a stačilo! Dúfam, že vy sa máte dobre a užívate si krásne Vianočné sviatky. My máme veľmi pokojné Vianoce, ktoré trávime s rodinou a blízkymi priateľmi. December je naozaj o tom, aby sa ľudia stretli pred koncom roka, je to čas plný osláv a zábavy. Chcela som Vám ukázať predstihu, čo budem mať pravdepodobne na Silvestra, alebo na dnešnú Štefánsku zábavu oblečné (ešte som sa nerozhodla, čo myslíte vy?). Kluby sa znovu zaplnia a ožijú, prvá party po Vianociach je taký warm up pred Silvestrom. My Slováci si príležitosť na oslavu nájdeme vždy a samozrejme je dobré vytancovať tie kalórie. Tento outfit sa mi veľmi páči, lebo je elegantný a jednoduchý, ktorý ma myslím, že vystihuje. Čierno-biela klasika, je taká klasika ktorá mňa osobne nikdy neomrzí. Výrzný náhrdelník je nutnosť, keďže výzor je veľmi jednoduchý, dodá tomu šmrnc, kľudne by mohol byť aj farebný. Veľmi dobre sa citím v týchto voľných nohaviciach, sú pohodlné a mašlička tomu dodáva na ženskosti. Biela dvojmo navrstvená blúzka, mne to príde skôr ako volániky je tiež veľmi ženská a chic. Oboje teraz v zľave. Červený rúž je moja záležitosť, dodá celému výzoru štipku farebnosti. Dúfam, že sa mi podarí stihnúť ešte jeden článok v starom roku, ale pokiaľ nie, tak prajem pokojné sviatky a krásneho Silvestra a všetko dobré v Novom roku . Ďakujem.
Outfit: Nohvaice:: Mango, Blúzka:: Mango, Topánky:: Kati, Náhrdelník:: Orsay, Naušnice a Hodinky:: Calvin Klein Kabelka:: Brigitte Bijou, Rúž:: Essence All you need is red
Príležitosti: drinky s priateľmi, Silvestrovská oslava, párty, rande
Tipy: Keď som zladená v čierno-bielom, vždy sa snažím výzor oživiť červenou farbou , červený rúž, alebo lak na nechty, kabelka, či dokonca lodičky tomu dodajú šmrnc
Ďakujem pekne za prečítanie. Dúfam, že sa Vám tento článok páčil aj outfit. Keď tak dajte mi vedieť dolu do komentu, palec hore na facebooku, či instagrame, alebo zdielajte. Kam sa chystáte vy? Vyrážate do ulíc, či radšej trávite Silvestra doma? Aký je Váš ideálny Silvester? Už viete, čo na seba? Dávate si niejaké Novoročné predsavzatia?