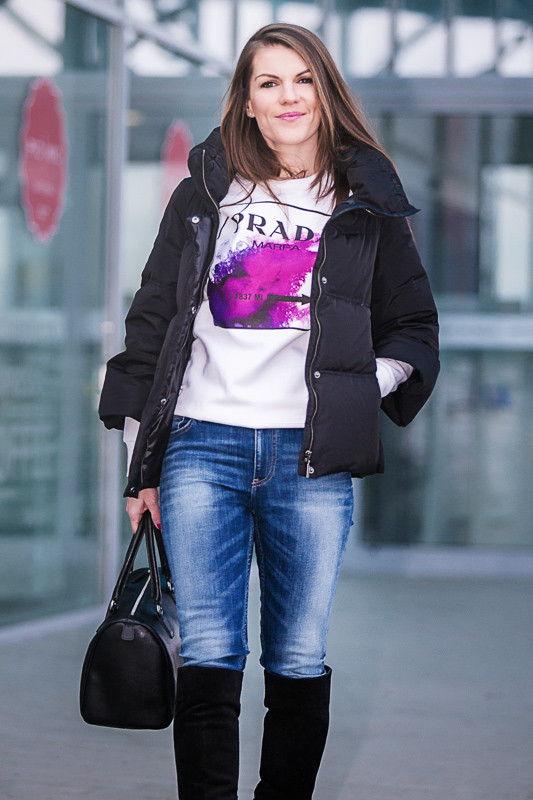 Hello and welcome to my blog. I hope you are having a lovely evening.This is my first New Year's outfit post.
I love this look a lot, because it's casual, simple and comfortable but still has that chic look to it. I paired my washed jeans with this lovely sweatshirt, over the knee boots and puffy jacket. I adore the sweatshirt it's so bright and warm but I still have an underneath basic white shirt with long sleeves for more layers.Too cold these days. Accessorized it with a bowler bag. The only thing about the jacket that is cut sleeves and for this cold weather is not so great if you are staying outside for a longer period of time, but that is not my case. I usually use car and do not stay outside a lot, so it's OK. I was looking for a long gloves to go with the jacket but couldn't find any at all. That way the entire look would be completed. If you know where I could get any please let me know. I adore the over the knee boots, it was a good buy they look gorgeous and every woman should own one. You can pair it with anything really.
Outfit: Jacket:: United Colors of Benetton, Basic shirt:: H&M, Sweatshirt:: Oneandsixos (Size S), Jeans and Boots:: Zara, Bag:: Furla, Watch:: Michael Kors, Earrings:: gift, Lipstick:: Loreal – Cheeky Magneta 07
Occasions: running errands, coffee date, shopping
Tips: if you have a cut sleeve jacket, get a pair of long gloves so you can cover the lower part of the hands until middle (unfortunatelly I couln't find any) it would give the look the final touch I aimed for and an extra warmth of course 🙂 you can accessorize with a beany also
Photos by: Romana Chudikova
Thank you very much for reading, likes and shares. Let me know if you liked this look in comment section. Is this something you would wear, how would you pair it. Have a lovely rest of the day.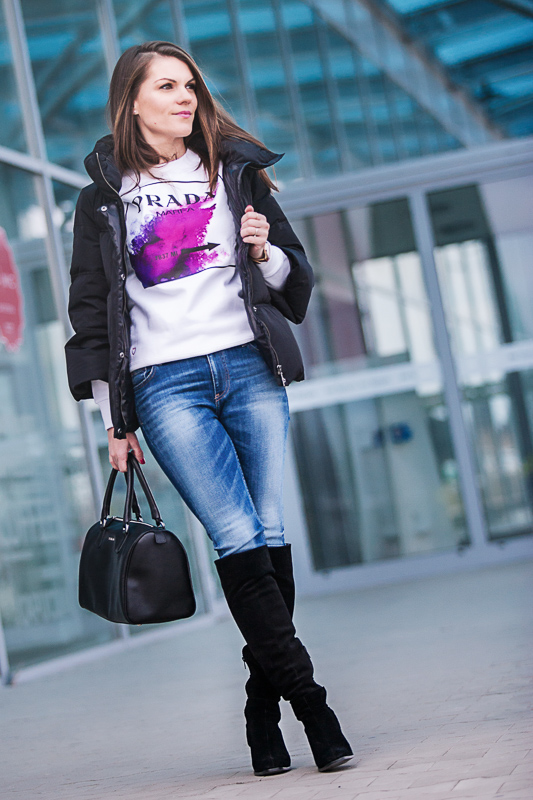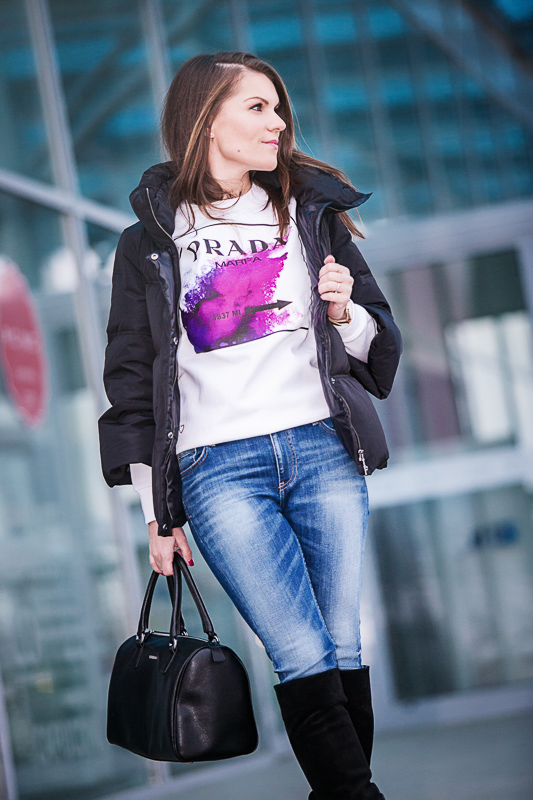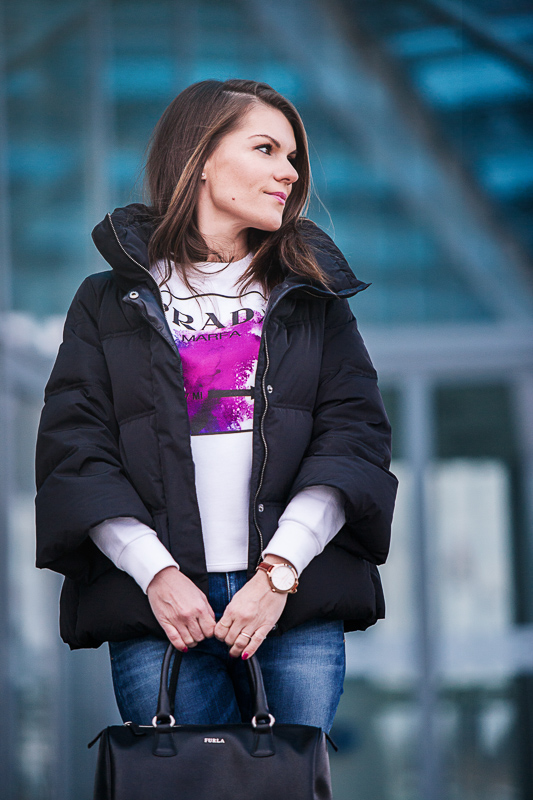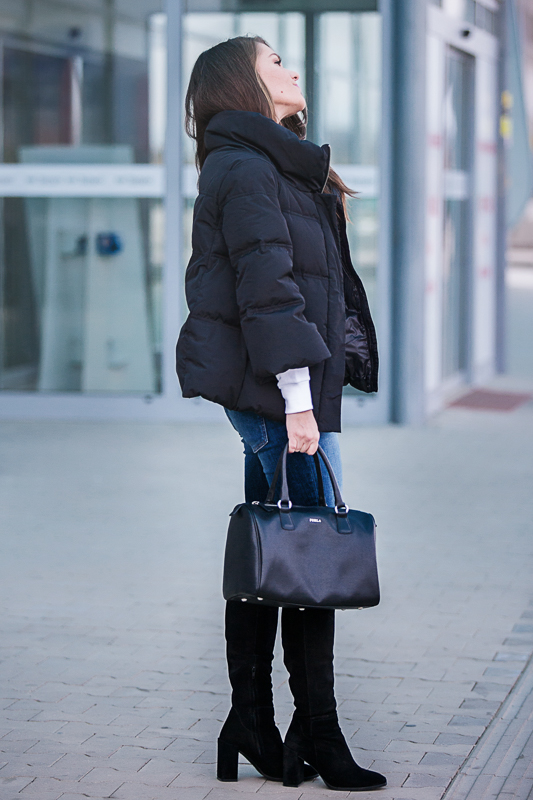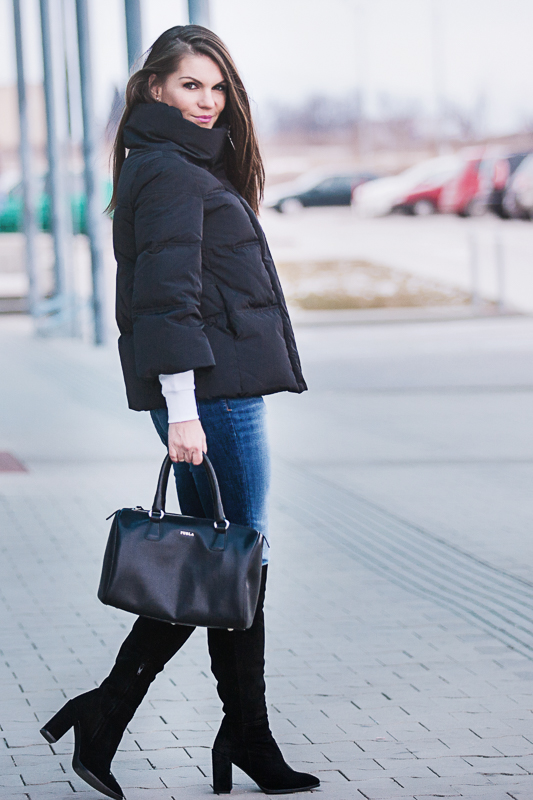 ♦ ♦ ♦ ♦ ♦ ♦ ♦ ♦ ♦ ♦ ♦ ♦ ♦ ♦
Ahoj a vitajte na mojom blogu. Dúfam, že si užívate krásny večer niekde v teplúčku. Pripravila som pre Vás môj prvý Novoročný outfit. Tento vzhľad sa mi veľmi páči, je jednoduchý, pohodlný, ale stále chic.Skombinovala som moje vyšúchané džíny s bielou mikinou, čižmamy po kolená a páperovou bundou. Páči sa mi táto mikina, je snehovo- biela a pekne na nej vynikne ružová s fialovu, je veľmi teplá, ale pre istotu som navrstvila pod to aj obyčajné biele tričko s dlhým rukávom pre lepšiu izoláciu. Riadne sa ozimilo tieto dni. Doplnila som to čiernou bowler kabelkou. Jediná nevýhoda tejto bundy je, že má trojštvrťové rukáve a môže trošku zospodu prefukovať, pokiaľ ste dlhšie vonku, ale to nie môj prípad. Vačšinou idem autom niekde a dlho sa po vonku v tejto bunde nepohybujem, takže je to ok. Hľadala som k nej dlhé rukavice, ale žiadne som nezohnala, ak by ste o niejakých vedeli, dajte mi určite vedieť. Tým by som celý výzor skompletizovala. Tie rukavice by tomu dodali štipku elegancie a tiež by zahriali.
Outfit: Bunda:: United Colors of Benetton, Mikina:: Oneandsixos (Veľkosť S), Čižmy a Rifle:: Zara, Kabelka:: Furla, Hodinky:: Michael Kors, Naušnice:: darované, Rúž:: Loreal Cheeky Magneta 07
Príležitosť: vybavovačky, rande na káve, shopping
Tipy: Pokiaľ máte bundu s trojštvrťovými rukávmi, hodia sa k tomu dlhé rukavice, dodali by tomu nielen extra ochranu pred mrazom, ale aj štipku elegancie, tiež by sa hodila k tomu aj ovysnutá čiapka
Fotky: Romana Chudíková
Ďakujem pekne za prečítanie, za každý palec hore, alebo zdieľanie. Dúfam, že sa Vám outfit páčil. Dajte mi keď tak vedieť, či nosíte niečo podobné, alebo ako by ste to skombinovali vy? Prajem krásny zvyšok večera.