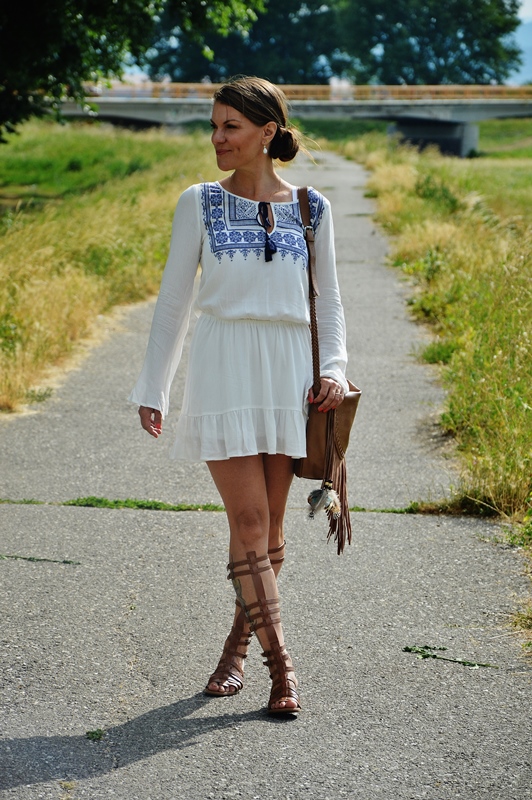 Dobré ráno a vitajte na blogu. Dúfam, že sa máte dobre a užívate si krásne slnečné počasie. Ako inak prežívate tieto letné horúčavy? Dovolenkujete niekde pri mori?

Dnes som pre Vás pripravila konečne outfitový článok, boho look. Biele mini šaty s dlhými rukávmi a výšivkou z jemného materiálu. Pôsobia jemne a žensky. Tiež milujem volániky, čím viac volánikov tým lepšie. Šaty som zladila s hnedými vysokými  gladiátorkami, ktoré sú momentálne veľmi trendy. Dajú sa kombinovať so všetkým, dodajú outfitu to pravé orechové. Sú veľmi pohodlné, remienka sa dajú nastaviť na rôzne veľkosti. Opätky sú asi 5cm vysoké, takže mám aspoň niečo k dobru. 😀 Kombinujem ich ku krátkym riflovým, alebo čipkovaným šortkám, dlhým maxi šatám, tých možností je naozaj veľa. Určite ich na blogu ešte uvidíte.
Ja som už v minulom článku tu spomínala, že som si tento boho look zamilovala hlavne v lete a cítím sa ňom dobre. Neni nad pohodlný a jednoduchý outfit. Ten som doplnila o mojú obľúbenú strapcovú kabelku, ktorú ste už mohli vidieť viac krát napr. tu, a ktorá sa dokonalo hodí práve k takémuto boho výzoru. Čo vy radi nosíte cez leto? Aké letné trendy máte v obľube? Čomu ste prepadli, ja určite espadrilkám a rôznym sadálkam na šnurovanie.
Ďakujem pekne za prečítanie a za Vašu podporu, ste naozaj skvelí. Dajte mi vedieť, či sa Vám outfit páčil, či máte boho tiež v obľube. Majte sa krásne a užívajte si leto. ♥
♦ ♦ ♦ ♦ ♦ ♦ ♦ ♦ ♦ ♦ ♦ ♦ ♦ ♦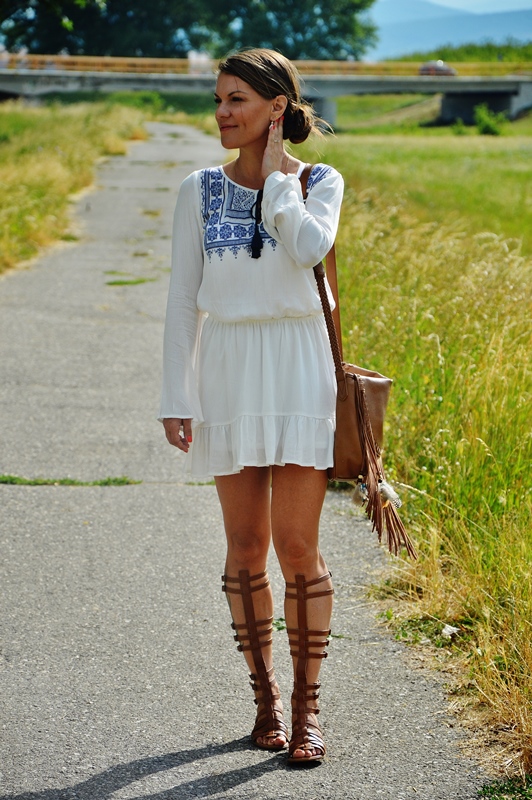 Šaty:: H&M (podobé tu a tu)
Topánky:: Topshop (podobné tu a tu)
Kableka:: Stradivarius (podobná tu a tu)
Fotky: Lucia Lussy Petríková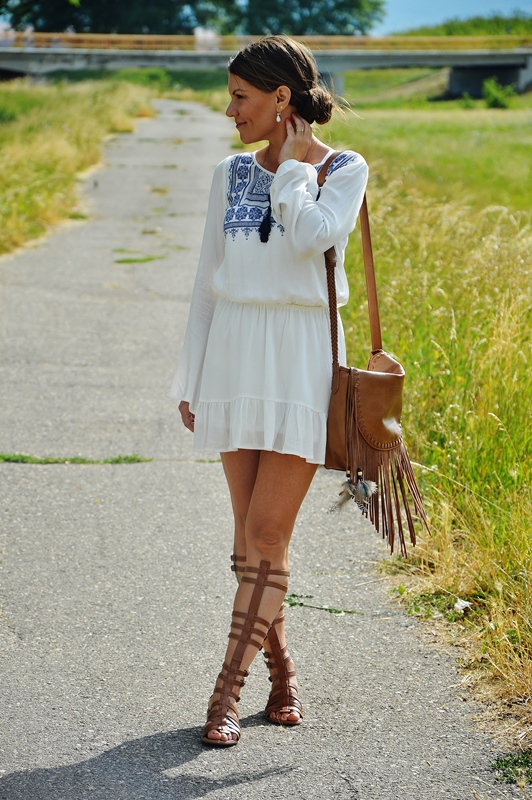 Dress:: H&M (similar here)
Shoes:: Topshop (similar here or here)
Handbag:: Stradivarius (similar here and here)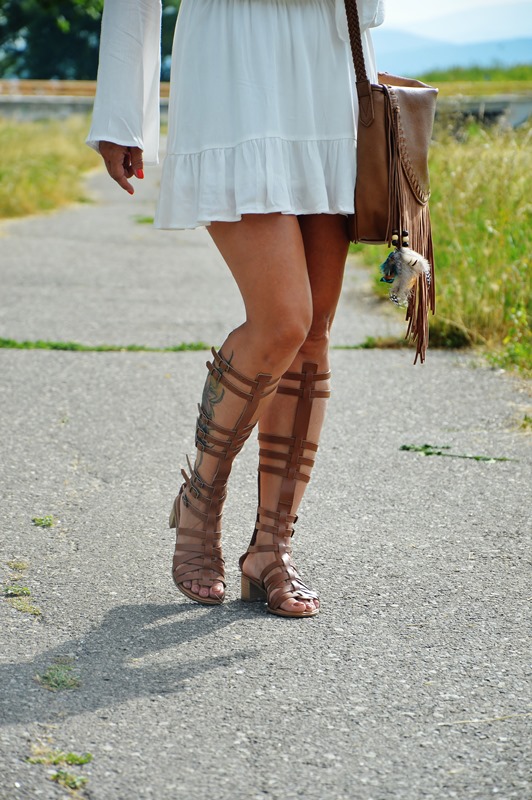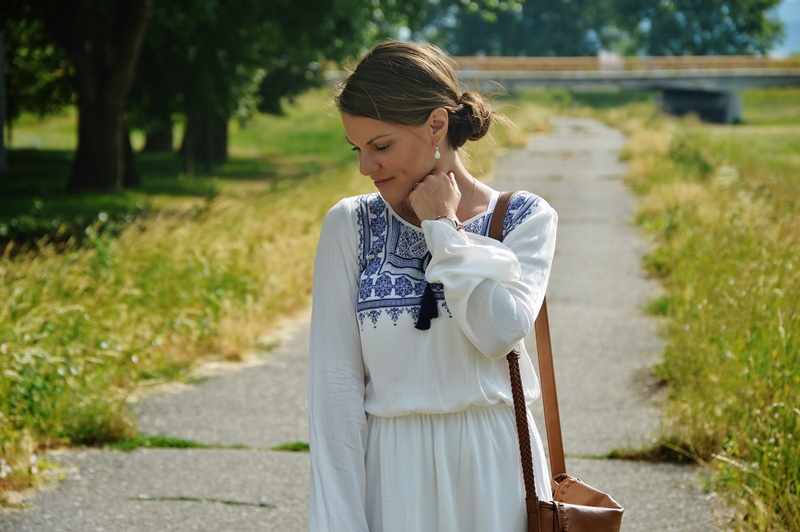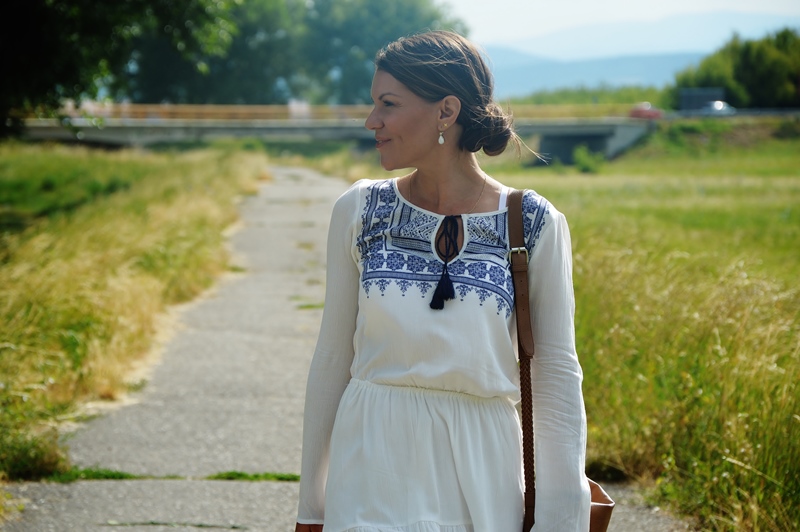 Photos by: Lucia Lussy Petríková
Hello guys and welcome to my blog. I hope you are having a wonderful morning. How are you enjoying this hot summer weather? Relaxing by the sea or not yet?
Today finally boho look outfit. White mini dress with long sleeves and embroidered detail on the front. I love this dress because it's very delicate and feminine. I'm also obsessed with ruffles there's never enough of it, the more ruffles the better. I paired it with high gladiator sandals, which are very trendy at the moment. I combine it with everything really. Very comfortable, stripes are adjustable which is good. Heels are about 5cm long so at least something to make me a bit taller. I like to combine these with denim or lace shorts and plain shirt or a maxi dress, the possibilities are endless.  In my last article here I wrote I love to wear this style in summer a lot, dress and sandals is pretty much it for me. I enjoy wearing simple and comfortable clothes. I also wear my fringe bag that is perfect for this kind of look. You could see it already in article here. What do you like to wear during summer time? Any summer trends you are enjoying?
Thank you very much for reading and support. You are awesome. Let me know if you like this outfit and if you would wear something similar. Have a great day and enjoy summer.